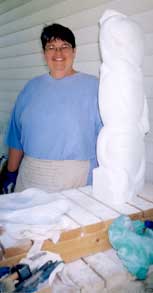 I am a sculptor who lives in Madison, Wisconsin. Recently, I have been carving stone. Most of my work has been created on a commissioned basis. Thank you for visiting my website.
Artist Statement
I guess I never got over my first carving assignment: "Make something that feels good." That was in a sculpture class in 1976 that I took because I needed a Humanities credit. Since then, after years of working in many different materials, carving stone always feels like coming home again.
I have been asked the "what is it" question more times than I have been asked my own name. I have struggled with the answers in various ways including throwing myself into an intensely conceptual graduate school program. In the end the answer is as simple and as complicated as living in our bodies and having emotions.
In my pieces I combine shell, human, and plant forms to create sensual anthropomorphic objects. The work has a strong presence and carries a lifelike quality that looks like it is (or has once been) alive. Perhaps you get the feeling that you just missed seeing it move the moment you turn your head. Viewers often want to touch the work to follow its curves, relating to it physically as well as visually. If you have looked at a sculpture and feel you want to hug it, or something, or someone then I consider the work a complete success.
Education
1988 – 1990
University of Chicago
MFA Degree – Sculpture
1985 – 1987
School of the Museum of Fine Arts (SMFA), Boston

Non-degree study of Handmade Papermaking sculpture techniques

1979 -1981
Bradley University,

(Peoria, IL)
Non-degree study of stone sculpture and figure drawing

1975 – 1979
Eureka College,
(Eureka, Illinois)
BA Degree – Art and Mathematics
Commissions
2021
"My, she is yar" alabaster sculpture
Candace Weber
Madison, WI
2018
Because You Asked serpentine sculpture
Marni Fisher
Black Creek, BC, CA
2013
Life Is But A Dream alabaster sculpture
Katia Marshall & Jeanne Welch
Madison, Wisconsin
2006
Yuletto marble sculpture
Karen Combs
Grand Junction, CO
2001
The Understanding limestone sculpture
Donna Z. Ferne
Installed since 2009 in: Stone Quarry Hill Art Park – New York
2000
If you only knew, alabaster sculpture Madison, WI
1998
As you Wish, onyx sculpture Mary Knotts
1995
Wordess marble sculpture
Heidi and Dave Sweet
Beaver Dam, WI
1987
"Waterfall" and "Flames" paper sculptures
St. Ignatius of Loyola Church at Boston College
Boston, MA
198?
Untitled, paper sculpture
Latitia Blaine
Providence, RI
Exhibitions
2021-
present
Josephine Sculpture,
Frankfort, Kentucky
2009-
present
Stone Quary Hill Art Park,
Cazenovia, New York
2008
"What Matters Most?", group show
John Michael Kohler Arts Center, Sheboygan, WI
2007
"Embracing Yin: an exploration of the receptive ", group show
Commonwealth Gallery, Madison
2006
"Yuletto Bon Voyage ", Madison
2005
"Madison-area Open Art Studios", Madison
1999
"But Yet the Body is His Book", group show
Ukrainian Institute of Modern Art, Chicago
1998
Kissing Girls Productions, group show
Sapphire Ballroom, Madison WI
1997
Kissing Girls Productions, group show
Senior Center, Madison WI
1992
"Speak", group show
Randolph Street Gallery, Chicago
1991
"Surprise Visit", one person show
Eureka College, Eureka, IL

16th Annual Member's Show, group show
Hyde Park Art Center, Chicago

"Animal/ Vegetable/ Mineral", group show
N.A.M.E. gallery, Chicago

1990 "Just Good Art", group show
Hyde Park Art Center, Chicago

"Woolworth Show", group show
Holstein Field House, Chicago, IL

"MFA 90", group MFA thesis show
Smart Museum at University of Chicago

"New Body (of work)", MFA thesis show
University of Chicago

"Direct Object/Crafted Image", group show
Ten in One Gallery, Chicago
1988
"Vernisage", one person show
Topa Gallery, Burlington, MA